The Warrior Way is Algonquin Middle School's new guiding principles for student behavior. The Warrior Way is replacing the AMS Bill of Rights and Responsibilities, which served Algonquin well for many, many years, but after speaking with students it was evident that there was a need to modernize the language in them. This led to a school wide survey, followed by several months of collaboration with students, teachers, and staff to review our school behavior expectations.
A group of students were tasked with reviewing the survey results and identifying the concepts that stood out the most. Common themes were identified from the survey such as respect, hard work, behavior, and interactions with others. Using this information our student group worked to create several "I will" behavior statements that reflected the themes from the school wide survey.
A group of teachers reviewed and discussed and refined the student created "I will" statements during an AMS Leadership Team meeting. The leadership team consists of teachers, staff, and administrators to discuss and share ideas to make the best possible decisions about school-wide policies. The results of this work was shared and discussed during a spring faculty meeting. The end result of all this work is our new "Warrior Way Principles," which remind all of us of the important behavior expectations we all have for the entire AMS community.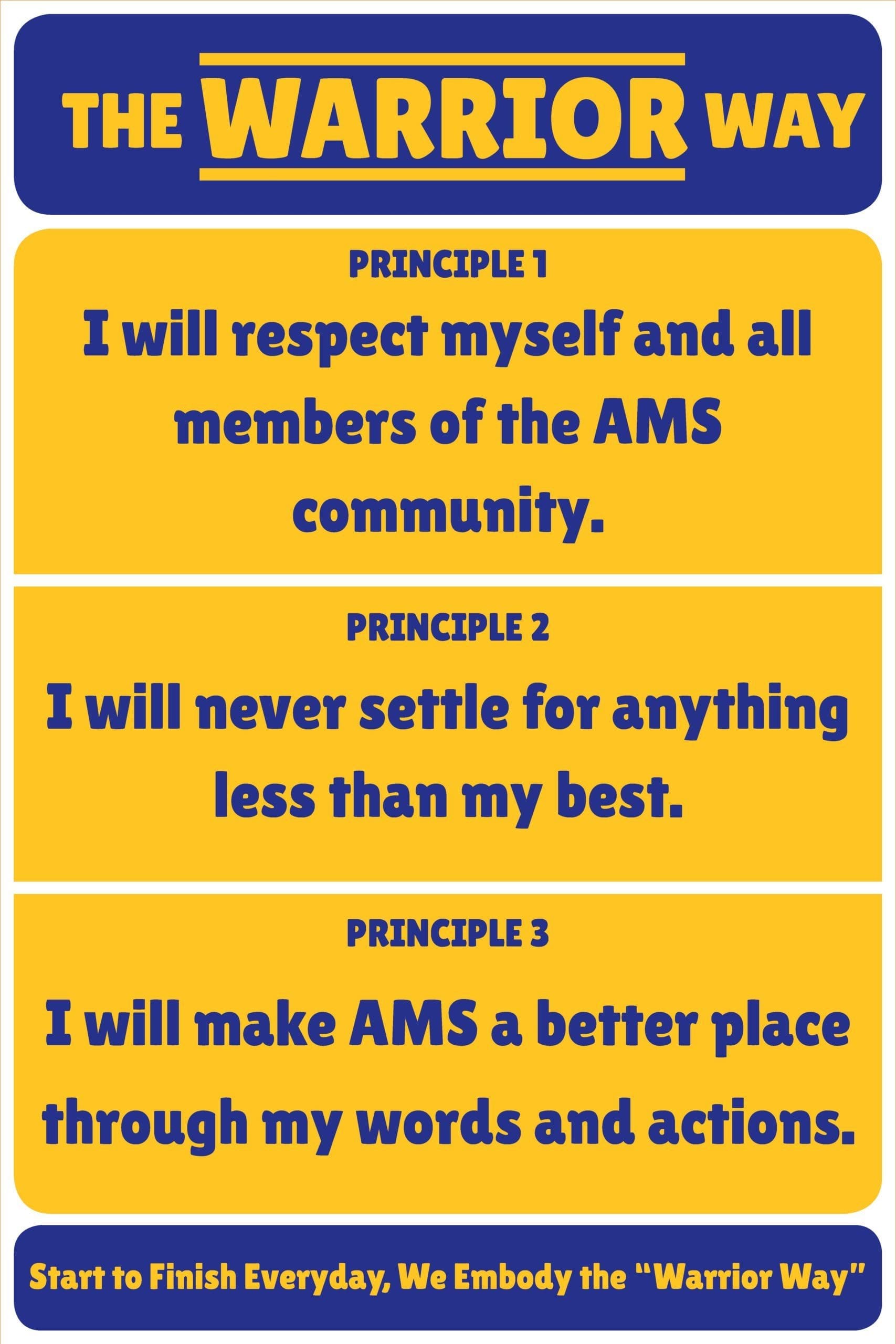 Principle 1: "I will respect myself and all members of the AMS community."
This principle reflects on the importance of respect as a fundamental principle in our school. The word respect came up over and over again in our work with students and teachers as we developed the Warrior Way, so it has a prominent position in Principle 1.
Principle 2: "I will never settle for anything less than my personal best."
This principle draws on the ideas of a growth mindset. A growth mindset reminds all of us that we each have the ability to grow and achieve if we work hard and believe in our ability to change and grow. Never settling for less than our personal best emphasizes the high standards we have for ourselves in our behavior, work habits and interactions with others.
Principle 3: "I will make AMS a better place each day through my words and actions."
This principle emphasizes that we are all part of the AMS community and that our words and actions have a big impact on our entire school. Remembering that we all are working together is an incredibly important idea and one that is fundamental to our school being a great place to spend our days together.
These principles are reminders of our Code of Conduct and of the values we all hold as Averill Park Warriors. It is our goal to make these principles come to life in our school and keep them in the front of our minds. Posters and banners of the Warrior Way are displayed in every room and in the hallways throughout the entire building.
And remember our Warrior Way slogan:
"START TO FINISH, EVERY DAY, WE EMBODY THE WARRIOR WAY."
View a video about the Warrior Way on YouTube here.